It's Official: Spring Fair on Saturday, June 4 between 10am and 2pm!
We know you care about Cove Cliff Elementary! And we know it's important to get to know your school community! Volunteer for a shift at this year's Spring Fair and you can do both!
A regular event in the years past, Spring Fair was a chance for kids and parents to gather, play games and have fun — carnival-style — all while raising funds to help support school initiatives.
This year, Spring Fair will happen on Saturday, June 4 between 10am and 2pm.
For the last few years, Spring Fair had to be put on hold but we have the 'green light' this year—and we have some exciting new additions this year! Think amusement park + climbing wall!!
To make Spring Fair a success, we need you.
Volunteer for a shift or two (one or two hours of your time). Volunteer jobs range from set-up and tear-down duties to selling tickets, manning game stations or helping with crafts. No matter what your strength or time commitments are, there's a spot where you can lend a hand! BONUS: You get to meet other Cove Cliff parents!
To sign up, please go to our digital sign-up sheet: https://m.signupgenius.com/#!/showSignUp/904054fafaa2aa0fd0-spring
This event will happen RAIN or SHINE (we always have back-up tents:).
Buy Your Spirit Wear!
Want to support Cove Cliff and show your spirit? Check out Cove Cliff Elementary gear, here.
Butterfly Garden Shout Out!
As you drop off and pick up your child, you may have noticed the thriving Butterfly Garden (at the south end of the school).
These fantastic planters and their beautiful blooms would not have survived this year's heat dome temperatures had it not been for a handful of dedicated community members, including:
Stephanie Cochran
Brian Bailey
Nicola Harper
Dan and Amy Schwartz
Liz Darling
Lesley DaSilva
Diane Ehling
These volunteers stepped up to water, tend and take care of these plants — sometimes more than once per day!
…and this is the result of this hard work…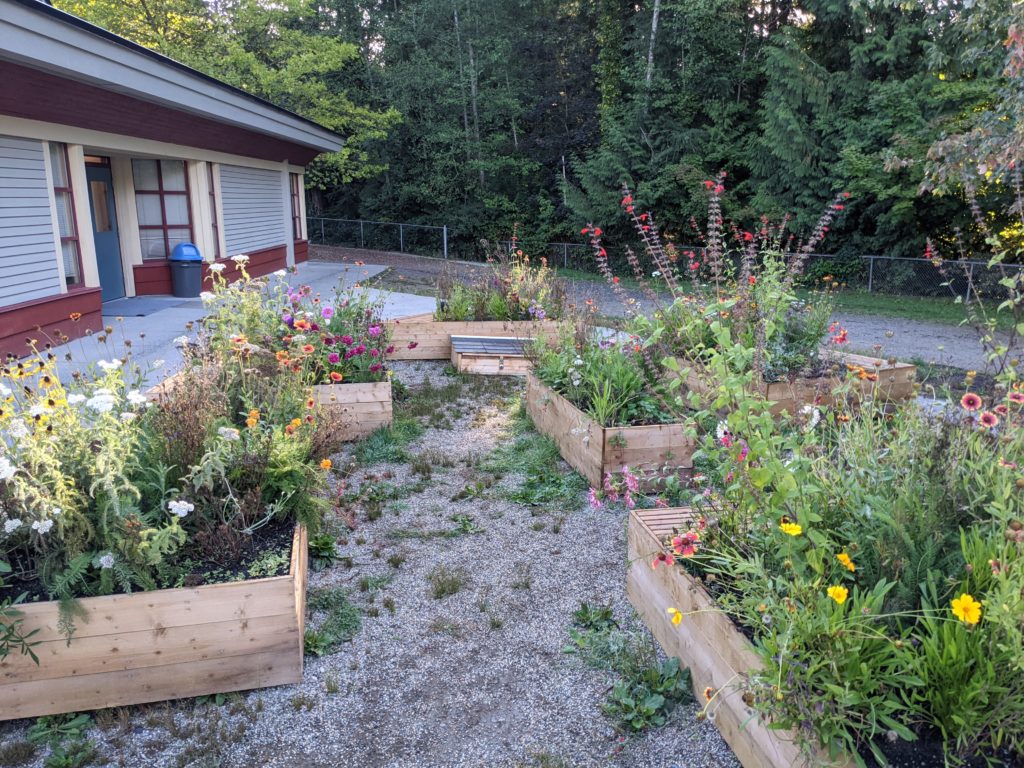 In addition, Fiona Hughes, a former parent at our school and community neighbour, also worked tirelessly for a number of weeks to revive our stressed Maple trees that line the front of our school (beside the "Public Libary"). To keep the trees alive, Fiona dragged two hoses from her own home in order to connect to the Butterfly Garden hose and extend the reach of the water to the Maple trees. Fiona would use this hose connection to fill five watering bags — garden-specific bags that hold 20 litres of water each and bought by Diane Ehling for this specific purpose. (Diane says that another neighbour, with no connection to our school, also offered to help fill the bags!).
As Diane Ehling so aptly says: "Three cheers to all our environment helpers, parents and students who came out to give a helping hand!"
Support & Promote Year-Round
Want to help support the PAC and Cove Cliff Elementary School? Here are every day (and every season) purchases, where a portion of your fee ends up back at the PAC and ready to spend on activities and initiatives to help the school:
Here is a list of current volunteer opportunities for 2021
Class Representatives
The PAC is looking for class representatives.
If you are interested in this position please contact:


[email protected]

Hot Lunch Volunteers (Currently on hold due to COVID restrictions.)
Parent participation in PAC meetings